About the Suffolk Community Council
As an umbrella agency for human service agencies, the Council takes a leadership role in organizing, training and coordinating groups and individuals through:
ADVOCACY on behalf of all Suffolk County residents to respond to identified and projected needs. This advocacy includes education, training and public awareness programs as well as advocating for our member agencies to insure adequate funding to contract agencies.
PLANNING of sound policies that lead to effective and cost-efficient human services. Surveys and research are conducted on issues that impact the non-profit community. Regular forums are held on new program initiatives involving issues of health, education and other services.
COORDINATION - We have our finger on the pulse of the County. We identify needed services, provide access to existing services and promote the sharing of information. We aid callers with problems and offer them appropriate referrals for help.
CLICK HERE FOR DIRECTIONS TO THE COUNCIL OFFICE...
---
Our Mission
Suffolk Community Council is dedicated to improving the quality of life for all residents of Suffolk County, fostering self-determination and empowerment.
Highlights From the 75-year History of the Suffolk Community Council, Inc.
The Council's 2009 Annual Report is now online; please click the link below to view in PDF format 2009 Annual Report...
---
Our Methods
The Council was founded in 1933 and is instrumental in uniting individuals and organizations to solve problems and address the concerns of children, youth, adults and seniors, people with disabilities and people at-risk.

The Council brings together individuals, agencies, schools, businesses and government to:

| | |
| --- | --- |
| - | form collaborations to inform each other of needs; |
| - | identify solutions and gaps in services; and |
| - | make recommendations for the improvement of services and community conditions for the people of Suffolk County. |
---
Our Funders
THANKS TO THE GENEROSITY OF OUR CONTRIBUTORS & FUNDERS:
AARP
Bank of America
Citibank, N.A.
The Grainger Foundation
Hagedorn Foundation
Hudson City Savings Charitable Foundation
Long Island Community Foundation
Long Island Fund for Women and Girls
National Grid
New York Community Bank Foundation
NYS Assemblyman Marc S. Alessi
NYS Assemblywoman Patricia Eddington
NYS Assemblyman Steve Englebright
NYS Senator Brian X. Foley
Suffolk County Department of Handicapped Services
Suffolk County Department of Health, Mental Health Division
Suffolk Federal Credit Union
United Way of Long Island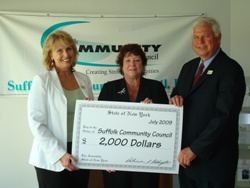 Assemblywoman Patricia Eddington presents a Member Item check to Judy Pannullo Executive Director of the Suffolk Community Council and Michael McClain, Board President for the Council's Universal Design project in July 2009.
---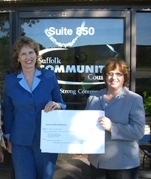 Marian Conway, Senior Program Officer of Roslyn Savings Foundation presents a check to Judy Pannullo, Executive Director of the Suffolk Community Council on September 13, 2007.
---
| | |
| --- | --- |
| Executive Committee | |
| Michael McClain | President |
| Joan Avolese-March | Vice President |
| Lisa Di Santo Grossman | 2nd Vice President |
| Erica Edwards-O'Neal | Secretary |
| John Barrie | Treasurer |
| Robert Detor | At-Large |
| Ellen Labita | At-Large |
| | |
| Board of Directors | |
| Karen Boorshtein | Jo Anne Mitidieri Sanders |
| Bridget DePasquale | Paule Pachter |
| Michelle Di Benedetto | Len Rothberg |
| Anita Fleishman | Rhonda Shepardson |
| Elizabeth Geary | Judith Van Dyke |
| Nicholas LaMorte | Janet Walerstein |
| Rhoda Miller | |
| | |
| | |
| | |
| Staff | |
Janet Allen, Program Director - Clearinghouse and Mediation Programs
Donna DeRiggi, Executive Assistant and Bookkeeper