Our Programs

The Suffolk Community Council promotes and organizes a wide variety of programs for Suffolk County residents and groups. The following list of major programs and efforts is a sampling of the work the Council is committed to perform.

---

Overview of Major Programs and Efforts
Unity Project
Seeks to improve the quality of life in Brentwood through community building, education and by addressing issues related to immigration. Read more about the Unity Project...
Network of Women with Disabilities (NWD)
Increasing awareness of and addressing issues faced by women with disabilities; improving health care access for all people is the Network's ultimate goal. Read more about NWD including NEW information about the Guide to Hospital Diagnostic Tests...
Accessible Long Island
Increasing accessibility for all Long Islanders through the promotion and use of Universal Design in all new and renovated homes and buildings. Read more about Accessible Long Island...
Universal Design Long Island
Universal Design Long Island is a new initiative that grew out of Accessible Long Island, designed to make Long Island housing more accommodating of multigenerational family needs through barrier-less entries, wider doorways, and other design formats. This will be kicked off at the National Association of Remodelers Institute (NARI) Trade Show on Monday, January 12, 2009. Read more about Universal Design LI...
Clearinghouse for Community Residences
The only project of its kind, the Council maintains a database of State-licensed community based housing in Suffolk County, to facilitate the development of more special needs housing. Read more about the Clearinghouse program...
Mediation Project for Consumers in Community Residences / Supported Housing Units
Began in 1998/99 through the support of the Suffolk County Division of Community Mental Health. The project is the first of its kind in NY State. Provides mediation services for individuals who reside in agency-sponsored mental health housing. Read More about the Mediation Project...
Single Point of Access (SPA)
Assists the County in the review of applications for persons with mental illness seeking to live in supervised housing in Suffolk County.
Directory of Community Services
This is the only printed directory of all human service agencies in Suffolk County. The Directory has an alphabetic listing as well as sections by towns and types of services. Read more about the Directory...
Volunteer/Community Service Registry
Working in partnership with United Way of LI and the LI Volunteer Center, this project lists volunteers and volunteer opportunities across the Island. Visit the Volunteer website at www.longislandvolunteercenter.org
Educational Seminars
The Council holds periodic seminars and trainings on current and pertinent issues. Check out our Calendar Page for the latest seminars.
Look for upcoming seminars on issues such as:
| | |
| --- | --- |
| • | Labor Law |
| • | Marketing for More Volunteers ~ Baby Boomers and Others |
| • | Foundation Funding Trends ~ How to get your proposal read |
| • | Human Resources ~ What are the new hot topics that your agency should know? |
| • | Insurance Options ~ Covering your staff and the best prices |
| • | Accounting Trends ~ Must know information for Non-Profits |
| • | Economic Trends ~ what are the indicators for the Long Island economy? |
| • | Formalities and Legalities ~ what formal documents are mandated and how can your agency be covered? |
| • | Managing Conflict for Employees and Managers |
| | |
Other Services Offered
| | |
| --- | --- |
| • | Our Calendar of Events for Health and Human Services, a regularly updated listing of agency events and descriptions Click here for the Calendar of Events for Health & Human Services... |
| • | Regular and timely email communication about crucial issues |
| • | "Smart Contracting" working with Suffolk County government to streamline the contracting process and the distribution of funds. |
| • | Health Care Providers' Accessibility Check List - allows a person to make a more informed decision about their individual accessibility to medical facilities and services. View the Health Care Providers' Accessibility Checklist here... |
| • | Annual Legislative event that brings elected officials and the human service community together |
| • | Timely County Budget information for agencies that contract with the County to provide essential services. Advocacy to streamline this process |
| • | Updated information and reports on critical issues that affect Suffolk County's most vulnerable |
| • | Legislative reports about and analysis of County laws and new initiatives under consideration |
| • | Brainstorming and strategic planning |
| • | Information on helplines, agencies, assistance and more |
| | |
---
Select Program Details
Accessible Long Island
View the Accessible Long Island Brochure here...
The latest demographic data for Long Island tells us that almost one third of our population is either a Senior or Baby Boomer, and that over 250, 000 people self-identify as having a disability and there are almost 200,000 veterans. That's a huge number of people who are affected by accessibility needs. This number will rise significantly over the coming years as the "baby boomer effect" expands the population further towards the 65+ age group. This will create an increasing number of Long Islanders who will want to "age in place." This means that to ensure equal accessibility for all, our physical infrastructure, particularly housing, will have to change.
Accessible Long Island is a new project working to increase accessibility for all Long Islanders through the promotion and use of Universal Design in all new and renovated buildings and homes.
Universal design principles focus on equal use, making environments accessible to everyone that uses them to the greatest extent possible, without the need for adaptation or specialized design.
If we begin now, Long Islanders can make sustainable changes that will shape the future of accessible communities and promote nondiscriminatory access for all people. We believe that Universal Design can have a major impact on the quality of life of future generations!
Watch for updates on this exciting new project!
May 2009 - Our Accessible Long Island project has been working hard with all the Nassau and Suffolk County towns to pass incentive-based Universal Design legislation. We are most pleased that on May 27, 2009 the Town of Islip was the 4th Town to pass this legislation. The other Towns are Southampton, Riverhead and Huntington. Please click the links below to view the legislation.
Click here to view the Huntington Legislation...
Click here to view the Islip Legislation...
Click here to view the Riverhead Legislation...
Click here to view the Southampton Legislation...
Suffolk Community Council's staff members visited the IDEA Center at the University of Buffalo. The IDEA Center is dedicated to improving the usability and safety of the built environment for all people throughout their life spans. The Center provides resources and technical expertise in architecture, product design, graphic design, web site design, facilities management and the social and behavioral sciences. The Center is also regarded as the national center of competence for Universal Design.
Click here to visit the Center for Inclusive Design and Environmental Access - www.ap.buffalo.edu/idea/Home
If you would like to learn more about Universal Design, please visit these external links:
The Center for Universal Design - www.design.ncsu.edu/cud/index.htm
Adaptive Environments - www.adaptiveenvironments.org
Center for Inclusive Design and Environmental Access - www.ap.buffalo.edu/idea/Home
---
Universal Design is a national home-ownership trend emphasizing how homes can accommodate multiple generations in comfort, safety, ease of use and sustainability. The Suffolk County Federal Credit Union, a major Long Island lender is offering a new line of credit to finance Universal Design remodeling projects, this is the first such credit product in the United States.
Regional adaptation of Universal Design:
- Strengthens families, neighborhoods & community institutions
- Preserves tax bases
- Lowers nursing-home institutionalizations
- Reduces serious home injuries (especially among children & teens)
- Aids environment
Click here to find out more at the Universal Design LI website at www.udli.org
---
Network of Women with Disabilities
The Network of Women with Disabilities (NWD) began in 2006 when a group of diverse women brought their concerns about health care access to the Suffolk Community Council. NWD is committed to increasing access to health care for people with disabilities; an issue that has been overlooked far too long. This is not a small change - Suffolk County alone has approximately 166,038 people over the age of 5 years with disabilities who are affected by the issue of health care accessibility.
The Network of Women with Disabilities mission is to increase accessibility to health care for people with disabilities through advocacy and education. The Network meets regularly to address gaps in health care services to all people with disabilities. The goals for the Network are - Access to information: providing accessible information on health care, insurance, and wellness to the community in a variety of formats. Private practice physicians: advocating for change in accessing private practice physicians through changes in office practices and procedures. Medical Schools and Hospitals: partnering with medical schools and hospitals to advocate for the development of educational programs that include awareness and training for those who provide care to people with disabilities. Medical Equipment: working to increase the accessibility of appropriate medical equipment for people with disabilities in hospitals and clinics. Dental Care: expanding access to dental care through advocacy and education of the dental community.
**NEW UPDATE** In 2010 The Network is proud to announce the completion of their Guide to Hospital Diagnostic Tests. Members of the Network visited every one of the 12 hospitals in Suffolk County to asses the capacity of the hospital to perform medical tests on people with disabilities. This report rates the aptitude of each hospital to provide diagnostic tests to people with various disabilities. Click here for the on-line report, a hard copy will be available in September.
In 2008 we developed a series of four questionnaires that are check-lists of the key questions to ask when making a medical appointment. The four types cover a range of special needs arising from:
• View the Limited Mobility Questionnaire Here...
• View the Blind/Limited Vision Questionnaire Here...
• View the Deaf/Hard of Hearing Questionnaire Here...
• View the Cognitive/Learning /Psychiatric Disability Questionnaire Here...
In 2007 the Network created a Check List of Medical Offices to help them provide accurate information when a person with a disability calls as to the accessibility of that office. We will be expanding distribution of this checklist in 2008 and seek to partner with other organizations to create medical information in accessible formats for persons with disabilities. Our goal is to help provide information to people with disabilities so they can make informed decisions about their health care.
To become involved please call the Council office, 631-434-9277.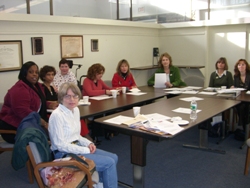 Pictured above are some of the NWD Committee Members
---
Directory of Community Services
The SCC Directory is widely acclaimed and used by social workers, emergency workers, other agencies and individuals for referral information. The Directory is the one place to look for services, along with addresses, telephone numbers, hotline numbers, and program descriptions. No longer will you have to search through endless lists to find what you want and need. The slightly revised format, as per our members' suggestions, will guide you through the wide range of services available throughout the County.
To find information for assistance and referral at your fingertips, you can order your copy of the Directory of Community Services.
Download the Directory of Community Services Order Form Here...
Click here to view the Updates to the Directory of Community Services...
---
Clearinghouse for Community Residences
"Many of our mentally disabled can benefit from life in the community, working or being educated among us, and developing their skills and living up to their full potential. That is the philosophy behind the Padavan Site Selection Law, which sets up the procedure by which community residences, or group homes can be established in New York State."
(Senator Frank Padavan, New York State Senate)
Clearinghouse is a project of the Suffolk Community Council, created in 1981 in response to the Padavan Site Selection Law. It operates with full cooperation with New York State 0ffice of Mental Health (OMH), Office of Mental Retardation/Developmental Disabilities (OMRDD) and the Suffolk County Division of Community Mental Health Services.
The purpose of the Clearinghouse Project is to facilitate informed and coordinated planning for new community based residences in Suffolk County. This goal is accomplished through a step-by-step process. The Clearinghouse staff work in cooperation with OMH, OMRDD and local housing agencies to share information that can insure selection of the best possible locations. A comprehensive site information database is maintained by the Council on all community residences as well as a listing of prospective sites under consideration for development by any of those sponsoring agencies or entities.
Clearinghouse assists agencies and government representatives involved in the site development process. Housing agencies developing new homes or sites are required to contact Suffolk Community Council for assistance with this step in the planning process.
Clearinghouse can help:
- Locate prospective sites.
- Avoid over-saturation of facilities and neighborhoods.
- Reduce time delays involved in the establishment of homes
Computerized, comprehensive, up-to-date information on the locations of existing and planned residential facilities is available through Clearinghouse.
Nine broad categories are included: Large Institutions, Adult Homes, Nursing Homes, Health Related Facilities (HRF), Skilled Nursing Facilities (SNF), Department of Social Services (DSS) Institutions, Group Homes, Supervised Community Residences (CR), Individual Residential Alternatives (IRA), Substance Abuse Residential Treatment Centers, and Family Care Homes (FC). Information is also collected on the locations of other relevant programs such as large foster homes, general hospitals, etc.
Through the Clearinghouse system, information on specific areas and sites is available to other service providers. All requests for this service must be made in writing; they may be faxed to 631-434-9311.
Click here for the Clearinghouse Site Evaluation Request Form
---
The Mediation Project for Consumers in
Community Residences and Supported Housing Units

The Mediation Project is a collaborative effort between the Suffolk County Division of Community Mental Hygiene and the Suffolk Community Council
The project includes Suffolk County Consumers who are living in housing licensed and/or sponsored by OMH such as:
• community residences; and
• supported housing units

The project does not include consumers of
• adult homes
• emergency housing
• section "8" housing
• room and board situations
• private residences
THE PROCESS:
There are two steps to start the mediation process:
Step I
In Step I the Consumer calls Janet Allen at Suffolk Community Council at 434-9277 ext. 2114 to request the Mediation Services. He/she will be asked to describe the situation.
Step II
In Step II the Housing Agency grievance procedure must be followed before mediation can take place. The Council can assist in this procedure.
STEP I PRE-MEDIATION
1. If the Consumer has a grievance he or she must place it in writing addressed to the appropriate party. If the Consumer needs help in writing the letter call the Mediation Project at the Council at (631) 434-9277. The agencies have agreed to reply in writing to the grievance within two weeks.

2. If the Agency does not reply in two weeks the Consumer should call Suffolk Community Council at (631) 434-9277 to inform them that they have not received a response. The Council will then follow-up with the Agency.

3. If the Consumer goes through the Agency grievance procedure and is not satisfied with the outcome—and the dispute involves a housing issue—a formal Mediation hearing will be scheduled.

STEP II REQUESTING MEDIATION
1. The Consumer can request mediation services simply by calling Janet Allen at Suffolk Community Council at (631) 434-9277.

2. The Consumer may have an advocate, parent or guardian call on his or her behalf.

3. Once the Consumer calls Suffolk Community Council, the request is reviewed to make sure the agency grievance procedure was completed. If the grievance procedure was not followed the consumer will be assisted in this process. Basic information regarding the Consumer and agency involved is documented including:
• Names
• Phone numbers
• Addresses
• A brief description of the conflict.

4. The Suffolk Community Council will call the Housing Agency to inform them of the consumer's complaint. At this point a meeting may take place between the Consumer and the housing agency. The Consumer can bring an advocate or anyone he/she chooses to the meeting.
5. If the Housing Agency and the Consumer cannot come to an agreement then Suffolk Community Council can refer the request to the EAC's Community Mediation Center.
Please Note: Mediation is an alternative to going to court but does not exclude it. Consumers can still seek further legal action if they are not satisfied.

---